---
Services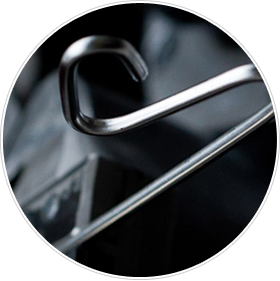 Our main activity is the production of specialized wire safety guards, screens and grills in which we build on the long tradition and where we take the position of European leader.
Our company also deals with bending, stamping and welding of steel and stainless steel wire and tubes. The production is based mainly on the bending and shaping wire with a diameter of 2-14 mm. Currently, we manufacture and supply a broad range of wire products.
Custom and serial production
Today our company is focused on a custom production of larger volumes, according to specific customer requirements, and supplies of wide range of wire and metal parts for our business partners, including requested surface treatment.
Services
Please contact us! We will according to your demand, the non-binding quote.
---
Secondary content
Quality first
We are certified according to quality standard ISO 9001 and ISO 14001. Always check that our products meet the most demanding requirements and standards set in the industry and required by our customers.
Contact
Galmet spol. s r.o.
Pod strání 189
Netvořice, 257 44
Czech Republic
Phone: +420 317 789 270
Fax: +420 317 789 291
E-mail:
www.igalmet.cz
---